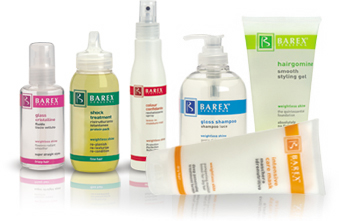 The ideal balance of advanced scientific innovations united with plant derivatives have resulted in the formulation of the perfect products that give high shine, volume and flexibility to the whole spectrum of hair complexities. Whether thick, thin, wavy or straight, the Barex Hair Treatment products are naturally blended to improve the condition, strength and the appearance of your hair.

Conditioner
products by Barex
---

<!/td> Barex - Aeto Botanica Fortifying Conditioner
33.8 oz     $69.00    

The seeds of the Hibiscus Esculentus, a plant native to Central Africa, contains an exceptionally rich milk, similar in protein content to cow's milk. Aeto Botanica s conditioner combines the beneficial properties of this botanical milk with the fortifying and revitalizing properties of Bamboo, to deeply rehydrate and restructure the hair fibers. Laboratory tests show that after only 4 treatments of this conditioner, the hair's resistance to breakages is increased by 47%. The physiological pH formula and the Panthenol make this conditioner recommended for all types of weak, over-worked hair. Detangles hair instantly, leaving it healthy and shining.

Hair Spray products by Barex

---

<!/td> Barex - JOC Style Non Aerosol Hair Spray Extra Strong Hold
10.1 oz     $34.00 Quick drying

Currently Out of Stock
 

---

<!/td> Barex - JOC Care Strong Hold Hairspray
16.9 oz     $34.00 Barex Italiana JOC Care Extra Strong Hold Hairspray Description: Master your hair style with Barex Italiana JOC Care Extra Strong Hold Hairspray. This unique formula combines super control with maximum flexibility to help you achieve enduring, quick-drying and easy-to-brush-out styles. Panthenol strengthens and moisturizes the scalp while UV filters guard against harmful UV rays. This professional-use hairspray blocks humidity while preserving silky, smooth texture and weightless shine for beautifully

Currently Out of Stock