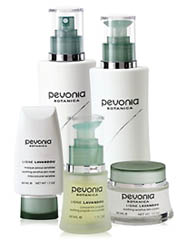 With Pevonia products you experence a realm of skin care far beyond the norm. Each and every pore is drenched with natures most selective ingredients. Every inch of skin on your face receives rejuvenating theraphy from 100% unadulterated plant extracts and essential oils. In formulation, every sensitizer and photo-sensitizer has been meticulously eliminated. Non-comedogenic and non-animal tested.

Pevonia Skin Products contains no artifical colors or fragrance, no alchol, no chemical fillers, no mineral oil, no lanolin nor PABA. and are non-animal tested. Pevonia ensures your beauty needs are specifically, reputably and reliably fulfilled. Pevonia's formulations and technologies constantly evolve and progress parallel to your skin care concerns and the world's scientific developments. Pevonia Botanica…always researching…always implementing…continuously leading the way towards face, body and spa care excellence.




Cleanser products by Pevonia

---

<!/td> Pevonia - Lavandou Cleanser, Sensitive Skin
6.8 oz.     $33.00    

Cleanse without irritability or discomfort! Soothing and light-textured, Sensitive Skin Cleanser gently removes accumulated impurities, while diffusing redness and irritation. Water-soluble, it easily rinses away for a fresh, revitalized complexion. Chamomile and Calendula deliver calming and desensitizing benefits to your delicate skin.


 

---

<!/td> Pevonia - Purilys Phyto Gel Cleanser,for Oily Skin
6.8 oz.     $41.00    

Foam away impurities! Enticingly aromatic, Phyto-Gel Cleanser provides a delightful natural soft lather for deep cleansing. Saponaria, Rosemary, Lemon, and Pine, precisely blend to rid your skin of impurities and surface toxins. Non-alkaline and non-drying, this gel is suited for all skin types.

Eye products by Pevonia

---

<!/td> Pevonia - Evolurive Eye Cream
1.0 oz.     $75.00 Pevonia Evolurive Eye Cream,non-Greasy, this eye cream contains Vegetal Squalane Oil and Vitamins A, E, B, and D, Hyaluronic Acid and Vitamin C, which impressively nourish and firm eye contour while softening and smoothing skin texture and minimizing fine lines. UV protection. Use morning or evening

Currently Out of Stock
 

---

<!/td> Pevonia - Eye Make-up Remover Lotion
6.8 oz.     $33.00    

Pevonia Eye Make-up Remover Lotion,a gentle, aqueous cleansing lotion for your eyelids and lashes. Lettuce, Cucumber and Arnica perfectly blend to thoroughly remove make-up without irritating the sensitive eye area. Recommended for contact lense wearers. Use when needed

Moisturizer
products by Pevonia
---

<!/td> Pevonia - RS2 Care Cream,Rose Line
1.7 oz.     $84.00    

Pevonia RS2 Care Cream,healing and calming, this wonderfully unctuous textured cream blends Green Tea, Licorice, Hazel Nut Oil and more to deliver soothing and desensitizing effects to Rosacea and sensitive skin. UV protection. Use morning and evening all over face and neck after Gentle Cleanser and Gentle Lotion. Best results obtained when used after RS2 Concentrate.