---
Basic ways to
better hair care
Wash and condition hair daily.

Change Shampoo from time to time. This helps your hair from building up a tolerance to shampoo and conditioners.

Do not over dry hair when styling.

When styling try to avoid products that use a high content of Alcohol

Eat right a balanced diet that includes vitamins and minerals (Believe it or not your diet effects your hair.)

Protection from the elements Wind, Heat, Cold, and most important the Sun.

Stress is a major factor. (Try to live a balanced life, take time to enjoy life and itís simple pleasures)
---
Caring for your Skin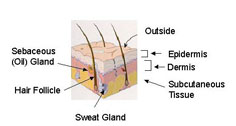 Your skin is a living organism and it regularly regenerates with new skin cells growing and forcing older, dead skin cells off at the surface of your skin. When you are young, this renewal takes place on it's own. As you get older, the process slows and the dead surface cells can accumulate on the surface of the skin. Proper Cleaning helps remove dead surface cells from your skin. Proper Cleansing helps your complexion looks lighter and brighter, smoother and more evenly textured.
Caring for your skin will only take a little bit of time. You'll find that the effort will not only refresh your skin, it will improve you self-confidence.
For simple skin restoration, add nutritive and rejuvenating products. Reorganize your lifestyle, so take the 5 minutes a day just for you. Your skin will thank you, and your friends will most definitely notice.
   

What are other Women using? Heres some of our best sellers in the last month










Paul Scerri
Moisturizing Day Cream, $51.50
Buy Now

Paul Scerri
Sebum Equilibrator Day Cream, $53.00
Buy Now

Paul Scerri
Sensitive Day Cream, $51.50
Buy Now

---










Paul Scerri
Sensitive Night Cream, $58.50
Buy Now

Paul Scerri
Osmovital Night Cream (Formerly Anti Aging), $84.00
Buy Now

Paul Scerri
Osmovital Plus Ultra Active Eye Contour Creme, $64.00
Buy Now

---










Paul Scerri
Clarifying Bath Oil, $46.00
Buy Now

Paul Scerri
Hydrogel Moisturizing Compound, $51.00
Buy Now

Paul Scerri
Osmovital Eye Contour Creme, for circles-puffiness, $74.50
Buy Now

---










Paul Scerri
Lymphofluide Herbal Oil, $62.00
Buy Now

Paul Scerri
Exfoliating Cream, $51.50
Buy Now

Paul Scerri
Perfection Refining Purify Body Cream, $75.00
Buy Now

---










Paul Scerri
Moisturizing Night Cream, $62.00
Buy Now

Tri
Ecollogen Shampoo, $59.95
Buy Now

Fleurs de France
Lavender Essential Oil-, $25.00
Buy Now

---










Ayur Medic
Anti-Bacterial Wash with Exfoliating Beads, $27.00
Buy Now

Ayur Medic
Intensive Face and Body Cream, $130.00
Buy Now

Ayur Medic
Brow Enhancer, $32.00
Buy Now

---










Ayur Medic
Glyco-CEA Gel, $48.00
Buy Now

Eve Taylor
Face Oil No. 1 Smoothing Sensitive Skin, $60.00
Buy Now

Eve Taylor
Body Oil No. 10, $66.00
Buy Now

12/6/2023 6:12:12 AM <!BR> <!IMG SRC='/shopping/images/features.gif' width=161 height=25><!BR>

| | |
| --- | --- |
| | SHOP BRANDS |
| | |
| --- | --- |
| | SHOP PRODUCTS |