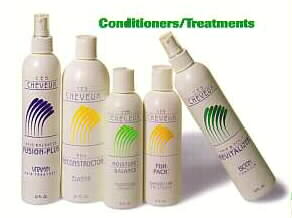 Ces Ceveux is about the essence.
Salon proven formuals. No shortcuts. No excuses.
Priced so that everyone who wants an image can afford one.
Ces Cheveus professional Hair Care for salons.
The ESSENCE of beautiful hair.

Hair Spray
products by Ces-Cheveux
---

<!/td> Ces-Cheveux - Fritz Sprtitz
10 oz     $18.00    

Stays pliable, and workable, allowing the stylist to create, design and achieve today's look in hair fashion. Extended drying time for the maximum styling flexibility and easy brush through. Fortified with conditioners to give super sheen, sunscreens and thermal shields protect hair against environmental damage, will not flake and shampoos out with ease.

Styling
products by Ces-Cheveux
---

<!/td> Ces-Cheveux - Mirage Spray Gel
8 oz     $15.00    

Ces Cheveux Mirage Spray Gel (Alcohol Free) - Water based formula is infused with herbal extracts that produce a lightweight natural look. For quicker drying times, spray onto set hair, then use dryer for firmer hold. Perfect for wash & wear hairstyles or a natural hold. No stickiness, build up or flaking. No added weight means bouncy, fluffy hair.




Treatment
products by Ces-Cheveux
---

<!/td> Ces-Cheveux - Revitalizer with Biotin Treatment
10 oz     $22.90    

Ces Cheveux Revitalizer with Biotin Treatment - A unique theraputic hair and scalp treatment. Use daily for effective control of dandruff, excess oils and itchy scalp. Specially designed to create an environment that promotes the growth of healthy hair by removing excess sebum from the scalp. Protects hair during heat styling. Reduces static electricity and thickens hair without coating.