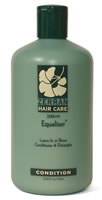 The Zerran Hair Care system is based on a simple philosophy: Hair needs care and we make products that care for your hair. The Zerran hair care system is designed to meet the needs of professional hair care in the salon and at home. Each product was formulated by senior scientists with many years of experience in the research and development of hair care products. Consequently, every product is scientifically designed to function, alone or in conjunction with other Zerran products. The result is a hair care system that rewards the user with beautiful, healthy hair.


Anti Frizz
products by Zerran
---

<!/td> Zerran - RADIANT Finish
4 oz.     $19.00    

RADIANT FINISH ,a special combination of ingredients that helps to seal and smooth frayed or damaged ends. Gives hair extra shine and a smooth silky feel.

Conditioner products by Zerran

---

<!/td> Zerran - EQUALIZER
8 oz.     $15.00    

Zerran EQUALIZER Conditioners,leave in conditioner
and detangler that provides optimum protection
from heat damage related to thermal styling, to
be used daily as a leave in to enhance the hairs
sheen or as a detangler to ease combing.


 

---

<!/td> Zerran - EQUALIZER
8 oz.     $15.00    

Zerran EQUALIZER Conditioners,leave in conditioner
and detangler that provides optimum protection
from heat damage related to thermal styling, to
be used daily as a leave in to enhance the hairs
sheen or as a detangler to ease combing.


 

---

<!/td> Zerran - EQUALIZER
8 oz.     $15.00    

Zerran EQUALIZER Conditioners,leave in conditioner
and detangler that provides optimum protection
from heat damage related to thermal styling, to
be used daily as a leave in to enhance the hairs
sheen or as a detangler to ease combing.


 

---

<!/td> Zerran - EQUALIZER
8 oz.     $15.00    

Zerran EQUALIZER Conditioners,leave in conditioner
and detangler that provides optimum protection
from heat damage related to thermal styling, to
be used daily as a leave in to enhance the hairs
sheen or as a detangler to ease combing.


 

---

<!/td> Zerran - EQUALIZER
32 oz.     $29.00    

Zerran EQUALIZER Conditioner,leave in conditioner
and detangler that provides optimum protection
from heat damage related to thermal styling, to
be used daily as a leave in to enhance the hairs
sheen or as a detangler to ease combing.


 

---

<!/td> Zerran - EQUALIZER
32 oz.     $29.00 Zerran EQUALIZER Conditioner,leave in conditioner
and detangler that provides optimum protection
from heat damage related to thermal styling, to
be used daily as a leave in to enhance the hairs
sheen or as a detangler to ease combing.

Currently Out of Stock
 

---

<!/td> Zerran - EQUALIZER
32 oz.     $29.00 Zerran EQUALIZER Conditioner,leave in conditioner
and detangler that provides optimum protection
from heat damage related to thermal styling, to
be used daily as a leave in to enhance the hairs
sheen or as a detangler to ease combing.

Currently Out of Stock
 

---

<!/td> Zerran - EQUALIZER
32 oz.     $29.00    

Zerran EQUALIZER Conditioner,leave in conditioner
and detangler that provides optimum protection
from heat damage related to thermal styling, to
be used daily as a leave in to enhance the hairs
sheen or as a detangler to ease combing.


 

---

<!/td> Zerran - EQUALIZER
32 oz.     $29.00    

Zerran EQUALIZER Conditioner,leave in conditioner
and detangler that provides optimum protection
from heat damage related to thermal styling, to
be used daily as a leave in to enhance the hairs
sheen or as a detangler to ease combing.


 

---

<!/td> Zerran - EQUALIZER
32 oz.     $29.00 Zerran EQUALIZER Conditioner,leave in conditioner
and detangler that provides optimum protection
from heat damage related to thermal styling, to
be used daily as a leave in to enhance the hairs
sheen or as a detangler to ease combing.

Currently Out of Stock
 

---

<!/td> Zerran - EQUALIZER
32 oz.     $29.00 Zerran EQUALIZER Conditioner,leave in conditioner
and detangler that provides optimum protection
from heat damage related to thermal styling, to
be used daily as a leave in to enhance the hairs
sheen or as a detangler to ease combing.

Currently Out of Stock
 

---

<!/td> Zerran - MOISTURE PAK Moisture Balancing Treatment
8 oz.     $20.00 Zerran MOISTURE PAK ,a moisturizer that locks in
moisture,adds body,flexibility and sheen to hair.
Especially effective after perms and color.

Back Ordered by the manufacturer
Shampoo products by Zerran

---

<!/td> Zerran - BOTANUM Shampoo
32 oz.     $25.00    

Zerran BOTANUM Shampoo,for hair that has been sub-
jected to chemicals, permanent waving solutions,
hair color and bleach. Provides extra conditioning
and assists in structural renewal of the hair
shaft.


 

---

<!/td> Zerran - BOTANUM Shampoo
32 oz.     $25.00    

Zerran BOTANUM Shampoo,for hair that has been sub-
jected to chemicals, permanent waving solutions,
hair color and bleach. Provides extra conditioning
and assists in structural renewal of the hair
shaft.


 

---

<!/td> Zerran - BOTANUM Shampoo
32 oz.     $25.00    

Zerran BOTANUM Shampoo,for hair that has been sub-
jected to chemicals, permanent waving solutions,
hair color and bleach. Provides extra conditioning
and assists in structural renewal of the hair
shaft.


 

---

<!/td> Zerran - BOTANUM Shampoo
32 oz.     $25.00    

Zerran BOTANUM Shampoo,for hair that has been sub-
jected to chemicals, permanent waving solutions,
hair color and bleach. Provides extra conditioning
and assists in structural renewal of the hair
shaft.


 

---

<!/td> Zerran - BOTANUM Shampoo
32 oz.     $25.00    

Zerran BOTANUM Shampoo,for hair that has been sub-
jected to chemicals, permanent waving solutions,
hair color and bleach. Provides extra conditioning
and assists in structural renewal of the hair
shaft.


 

---

<!/td> Zerran - Zerran Liter Deal Botanum Shampoo & Equalizer Conditioner
32 oz.     $55.00    

Zerran Liter Deal Botanum Shampoo & Equalizer Conditioner