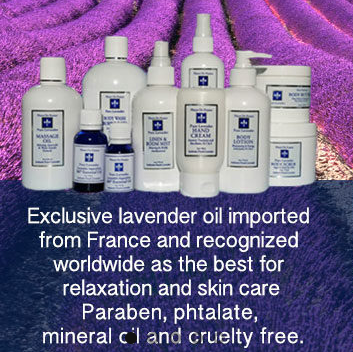 The quality of Fleurs de France products are a result of 40 years experience in the field of essential oils. Our products are a quality you can rely on. The packaging, products, and support information provided, are a consequence of careful mark

-Face and Neck products by Fleurs de France

---

<!/td> Fleurs de France - Creme Plus
2 oz     $110.00    




The main reason for wrinkles is dehydration and loss of elasticity and collagen. Itís important to use a product that penetrates well and provides hydration and nutrition to the deeper levels of your skin. Get amazing moisture with the best seed oils from around the world. Seed oils contain the highest concentrations of vit e, omegas (3,6,7 and 9), vitamin c, retinol, and so much more. We believe that these oils, which have been used for centuries around the world, have a proven track record for keeping womenís skin flawless and young well into their 70s !. We add Irish seaweed collagen, Tetrahexyldecyl ascorbate (most powerful form of vit C for boosting collagen production) and Collageneer (from France) to help with the skinís elasticity to further prevent fine lines and diminish wrinkles. Key Ingredients: (all oils are wildcrafted organic) Tetra C, Collageneer, Squalane: Prickley Pear(cactus) seed oil; Carrot seed oil; Kalahari Melon seed oil; Rosehip seed Oil; Pomagrenate seed oil; Red raspberry seed oil; Jojoba oil; Chamomille; Seaweed collagen, hyaluronic acid. This cream is silicone free and phthalate free. No artificial colors and cruelty free.


 

---

<!/td> Fleurs de France - CREME RICHE COLLAGENE
1.7 oz     $68.00    

Active ingredients: High percentage of highest grade seaweed collagen; Organic Rosehip oil; CoQ10; Organic Jojoba oil; Pure French Rose geranium essential oil Rejuvenate with quick absorbing natural anti-oxidants found in the oils we use. No artificial vitamin c or e. Organic cold pressed Rosehip oil and Jojoba oil contain naturally occurring vitamins that we believe are better absorbed and more effective than any other addition to a cream. Paraben, phthalate and mineral oil free! Cruelty-free!


 

---

<!/td> Fleurs de France - CREME YEUX (eye cream)
.5 oz     $50.00    

Reduce fine lines, puffiness and dark circles. With Squalane (vegan) , Seaweed collagen & antioxidant vitamins. (Silicone & paraben free) Use during the day under makeup and as a night treatment. Eye cream with serum (.5oz) (Unscented) Reduce fine lines, puffiness and dark circles. Get results! With a high performance eye cream & lip contour. Use under makeup during the day and as a night treatment. We have the greatest synergy of all active ingredients concentrated for maximum effectiveness. Used for eye and lip contour. With Seaweed collagen, Squalane (vegan), Argireline peptide, CoQ10, Vit C & E. (Unscented & Silicone free)


 

---

<!/td> Fleurs de France - DAY SERUM PRIMER (oil & silicone free) 1oz
1 oz     $65.00    

Keep your skin hydrated, firm and blemish free! (1oz) Keep your makeup fresh al day long and avoid blemishes. Hyaluronic acid is one of the most effective humectants available. It deeply hydrates dry and damaged skin to improve texture.We add seaweed collagen to keep the skin young, firm and plump. Oil Free. Loved by professional makeup artists! Ideal for helping to minimize the appearance of fine lines and wrinkles. Great to use under makeup. Non-comedogenic, FOR ALL SKIN TYPES.. Water based serum. Great to use overnight too! Ideal for sensitive skin and problem skin. Lightly scented with lavender oil to help heal the skin and keep it clean all day long! KEY INGREDIENTS: Hyaluronic acid, Seaweed Collagen and pure French Lavender oil. This product is cruelty free, silicone free, paraben free and vegan.


 

---

<!/td> Fleurs de France - Face -Body Mist 4oz (toning, hydrating & balancing)
4 oz     $25.00    

Improve complexion with Refreshing, firming and antioxidant using the highest grade Vitamin E and Vitamin C. Use while exercising or before or after make-up to keep your skin clean. With hyaluronic acid (moisture retainer). Available in 4 oz. Refreshing and antioxidant using the highest grade Vitamin E and Vitamin C along with a non oily moisture retainer. Also antibacterial with Tea tree oil. Can be used as a toner and excellent for minor sunburns. Keep it in your bag and use several times a day. Excellent for blemishes too! Lavender essential oil has been used for thousands of years including Ancient Egypt to improve the skin s overal complexion.


 

---

<!/td> Fleurs de France - Face Oil
1 oz     $95.00    




Super Skin Food Face Oil Ė With 9 wildcrafted seed oils containing all the omegas and antioxidant your skin will ever need to stay healthy and young. Heal, rejuvenate and brighten. For all skin types. Our Best selling product! Firming, Brightening & Hydrating Night Serum Revive and nourish skin overnight with Tetra Vitamin C ( Tetrahexyldecyl Ascorbate) made to penetrate better, deeper and help boost collagen production. We add Colleganeer and organic seed oils which contain omegas for skin health and firmness. Great for all skin types! You must nourish the skin as you hydrate to get the skin to re-balance and stay healthy. Helps maintain firm skin and keep it younger looking. Active ingredients: Organic Pomagrenate seed oil, Organic Prickly Pear seed oil, Organic Rosehip seed oil, Tetra Vitamin C, Organic Red Raspberry seed oil, organic carrot seed oil, collageneer for collagen boost and firmness. Key Ingredients: Tetrahexyldecyl Ascorbate is a stable, oil-soluble form of Vitamin C, used for anti-aging because of its ability to increase collagen levels, reduce melanin production, brighten skin, and repair the effects of UV exposure and other environmental damage. Penetrates deeper than any other form of Vitamin C which better helps collagen production. We use a maximum dose of 10%. Collageneer: A patented ingredient sourced from France derived from white Lupin seeds grown through sustainable methods in France. It helps produce collagen to increase skin elasticity and firming sagging skin. Kown to to help with facial contour. Seed Oils: We use seed oils to provide moisture, superior natural antioxidants and all necessary omegas to promote skin health. How to use: Apply a thin layer over face and neck. Wait 5 min then apply Creme Riche. Can be used on itís own overnight without any cream. For eye area we recommend our eye cream, Creme Yeux which is already complete and as concentrated as a serum. (Our best seller since first introduced in 2018)


 

---

<!/td> Fleurs de France - Fleurs de France ULTIMATE FACE OIL
1. oz     $95.00    

Super Skin Food Serum / Moisturizer With 9 wildcrafted seed oils. For all skin types.


 

---

<!/td> Fleurs de France - Night Serum
1 oz     $95.00    




Boost collagen, firm, brighten and deeply hydrate overnight with the best anti-aging Tetra vitamin C and plant based omegas. Best seller for 4 years now! Firming, Brightening & Hydrating Night Serum Revive and nourish skin overnight with Tetra Vitamin C ( Tetrahexyldecyl Ascorbate) made to penetrate better, deeper and help boost collagen production. We add Colleganeer and organic seed oils which contain omegas for skin health and firmness. Great for all skin types! You must nourish the skin as you hydrate to get the skin to re-balance and stay healthy. Helps maintain firm skin and keep it younger looking. Active ingredients: Organic Pomagrenate seed oil, Organic Prickly Pear seed oil, Organic Rosehip seed oil, Tetra Vitamin C, Organic Red Raspberry seed oil, organic carrot seed oil, collageneer for collagen boost and firmness. Key Ingredients: Tetrahexyldecyl Ascorbate is a stable, oil-soluble form of Vitamin C, used for anti-aging because of its ability to increase collagen levels, reduce melanin production, brighten skin, and repair the effects of UV exposure and other environmental damage. Penetrates deeper than any other form of Vitamin C which better helps collagen production. We use a maximum dose of 10%. Collageneer: A patented ingredient sourced from France derived from white Lupin seeds grown through sustainable methods in France. It helps produce collagen to increase skin elasticity and firming sagging skin. Kown to to help with facial contour. Seed Oils: We use seed oils to provide moisture, superior natural antioxidants and all necessary omegas to promote skin health. How to use: Apply a thin layer over face and neck. Wait 5 min then apply Creme Riche. Can be used on itís own overnight without any cream. For eye area we recommend our eye cream, Creme Yeux which is already complete and as concentrated as a serum. (Our best seller since first introduced in 2018)

-Immuni Mist and Aromatherapy Mists products by Fleurs de France

---

<!/td> Fleurs de France - Bloom no3 Perfume roll-on 10ml
10 ml     $38.00    




Roll on your wrists and wait a few minutes for the scent of these 10 flower absolutes and essential oils to open up and bloom! The scent is made in France. Reminiscent of spring blossoms in Southern France. Alcohol free. Great for your skin and your senses. 100% natural. The scent is inspiring, relaxing, uplifting and mood enhancing. Wear it day and night.10ml 4 flower natural fragrance absolutes and 6 exclusive essential oils.Our perfectly blended perfume opens up like a prized Bordeaux wine. Put it on and let it open up and enjoy a magical scent that will relax and ground you throughout the day. Improve your mood and enjoy the calming high floral blend. Formulated in France. NATURAL ESSENCES FROM FLOWERS NEED TO OPEN UP SO YOU MUST WAIT 1 MINUTE AND SEE HOW THIS AMAZING SCENT OPENS UP INTO A MAGICAL SENSORIAL EXPERIENCE. INGREDIENTS: Kalahari melon seed oil (known for itís high content of antioxidants) and a combination of 10 flower absolutes and essential oils. (Formulated in France)


 

---

<!/td> Fleurs de France - ImmuniMist (alcohol free!, all natural)
4 oz     $18.00    

This special European blend is made with 10 essential oils known to be antibacterial, anti-fungal and anti-viral. Spray your hands. Carry with you at the Gym, school, office, home, car etc. Available in 4 oz.

-lavender products products by Fleurs de France

---

<!/td> Fleurs de France - Body Butter with vitamin c and e and CoQ10 Rosehip and Peptides-
9 fl. oz.     $48.00    

Anti-oxidant with Shea Butter, CoQ10 and natural oils. Revive and boost with Seaweed Collagen! This cream is made to be extra nourishing by adding the best base oils such Rosehip oil and East African Shea Butter (Shea Nilotica contains significantly more fatty acids than the common West African butter). Both contain natural anti-oxidant vitamins to which we add CoQ10 to super boost this butter. This quality Shea butter penetrates better and is known to have the greatest medicinal properties for the skin. We also add seaweed collagen to help improve the skinís elasticity. Pure Lavender essential oil has been used for centuries to balance oil production on the skin. Shea butter has also been used in Southern France as a natural light sunscreen. 100% natural scent. Silicone free , Paraben free, mineral oil free, phtalate free & cruelty free! Size: 9.0 oz-


 

---

<!/td> Fleurs de France - Foaming Facial Cleanser Gentle Purifying Brightening 3.4oz-
3.4 oz     $32.00    

Good for all skin types. Lavender oil is known to balance oil production on the skin. Mild yet effective cleanser! Will lighten and brighten your complexion. One pump for the whole face and neck area. This bottle goes a long way! Great for the whole family! Size 3.4oz


 

---

<!/td> Fleurs de France - Lavender Essential Oil-
1.0 oz.     $25.00    

One drop directly on skin blemishes speeds up the healing process and avoids scarring. A few drops in a warm bath or pot of hot water for inhaling creates a calming and uplifting effect. A few drops on cuts or burns speeds up healing and avoids scarring. One or two drops in a teaspoon of carrier oil such as sweet almond oil for massage. This combination is used effectively during pregnancy to avoid permanent stretch marks. A few drops added to potpourris for fresh antibacterial scent. A few drops on a cotton ball to put in linen drawers or closets as a moth and insect repellent. A few drops on a cloth thrown into the dryer as an antibacterial deodorizer and clothes freshener.


 

---

<!/td> Fleurs de France - Linen and Room Mist with pure lavender -
8 fl. oz.     $25.00    

Relaxing all natural mist made with 100% pure French lavender essential oil. Spray your Linens, home, carpets, sofas, car or office! Paraben free. Size 8oz


 

---

<!/td> Fleurs de France - Polish and Renew Lavender Body Scrub 12oz-
12 oz     $35.00    

Enjoy a Relaxing and Rejuvenating Home Spa Treatment! Sugar and salt scrub with cleanser. No need to wash off just rinse off in the shower. Fast and easy to use! Great resulst! Available in 12 oz.

Cream
products by Fleurs de France
---

<!/td> Fleurs de France - California Face Cream
1 oz     $37.00    

Inspired by the natural beauty of California. We use seed oils from plants that were indigenous to this state and are renown to be the best for skin care. We also use Osha root extract known as a potent antioxidant used by native Americans for hundreds of years.