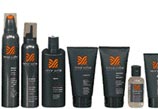 Trevor Sorbie is internationally acclaimed as the style guru of the hairdressing world. His vision and artistry have revolutionised the industry over the past 30 years. On the leading edge of fashion he was the inventor of The Classic Wedge in the seventies; The Scrunch in 1980; The Chop in 1984 and The Frizz in the nineties. Respected and revered by his peers, he has won the acclaimed British Hairdresser of the Year Award, a record four times. The Trevor Sorbie Professional range, brings together his years of experience and expertise. A master of cutting and styling, his products enable hairdressers and clients to maximise hairs potential every day, in every way.

Shampoo
products by Sorbie
---

<!/td> Sorbie - Cleane Shampoo for Chemically Treated Hair
8.5 oz     $19.00    

Cleane Shampoo for Chemically Treated Hair combines gentle daily cleansing and conditiong for chemically processed hair. Designed to revitalize and protect the hair, it does not strip essential moisture and prolongs the life of perms and colour. The moisturizing agents also make it the ideal shampoo for naturally dry or coarse hair.