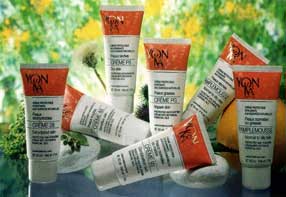 Yon-Ka products was created in 1957 by two brothers, both botanists, who rejected the move to pharmaceuticals for skin care and who eventually perfected the stabilization of essential oils in a water-based emulsion. This allowed the inclusion of both essential oils and plant extracts in the same product, thus both treating and nourishing the targeted tissues.

Yon-Ka is so committed to botanical and specifically aromatherapeutic treatment, that only four of its products contain animal extracts, and those (in the anti-aging line) are synthetically produced.Yon-Ka products is a favorite in European salons and spas, where is it known to be seriously therapeutic: its pure emulsion, the base product of its line, is used in French burn centers. Yon-Ka products are by definition strongly aromatic and easily win client loyalty, which is greatly enhanced when the efficacy of the products becomes evident.




Acne
products by Yonka
---

<!/td> Yonka - Creme 15 Acne
1.7 oz.     $54.00    

Creme 15 ,a precious purifying treatment product to be used alone at night or under your daytime moisturizer. The perfect antidote to control visible acne. The extraordinary purging and regulating properties of this cream are ideal to restore a soft and smooth complexion.

Anti Inflammatory
products by Yonka
---

<!/td> Yonka - Creme 11
1.4 oz.     $58.00    

Creme 11,For nighttime use. The cream belongs to the 911 emergency line for skin care. Its extraordinary composition prevents minor irritation from escalating and repairs all the symptoms which arise after the skin has been traumatized - sunburn, chapping due to cold, peeling due to intense dehydration. CREME 11 counteracts instantly at signs of irritation. Skin looks rested and feels desensitized from any burning or tingling sensationsymptoms which arise after the skin has been traumatized.

Cleanser
products by Yonka
---

<!/td> Yonka - Nettoyant Creme
3.5 oz     $22.00    

Yonka Nettoyant Creme, For Sensitive skin types. This light and creamy cleanser washes away the cares of the day while gently dissolving dirt and secretions. A favorite for those with over-reacting complexions; lavender essential oil soothes while cooling peppermint refreshes. It also doubles as a superb make-up remover and shaving cream.


Eye
products by Yonka
---

<!/td> Yonka - Alpha Contour Eye & Lip Gel
0.5 oz.     $39.00    

Yonka Alpha Contour Eye & Lip Gel, This high tech formula unites non-stinging multi-fruit acids from berry, maple, sugar cane and lemon with essential oils of mint and lavender and extracts of chamomile and mimosa. The result is a non-irritating ultra gentle, pH friendly cell removal gel with light UV protection, capable of smoothing and reducing fine lines and wrinkles through gentle yet progressive exfoliation.

Firming products by Yonka

---

<!/td> Yonka - Elastine Nuit Anti-Aging
1.7 oz.     $39.00    

Yonka Elastine Nuit , Use the benefits of night time - darkness, calm and relaxation to let the power of this cream rebuild a nonocclusive film of moisture and reprogram your skin to combat the causes, not just the effects of dryness. Specially formulated to result in unequalled skin softness, restored skin tone with less visible lines when you awake.


 

---

<!/td> Yonka - Phyto 52 Anti-Aging
1.4 oz.     $39.00    

Yonka Phyto 52, This 100% perfectly pure aroma-therapeutic cream saturated with plant-flower-based strengthening and firming phyto-nutrients delivers instantly. Results are undeniable; skin looks dramatically firmer and appears more resilient, radiant and youthful. It is like having a personal fitness trainer for facial contours. Designed for all skin profiles, this refreshing and enlivening bouquet de Provence scent is a spectacular nighttime ritual for aromatherapy lovers.

Mask
products by Yonka
---

<!/td> Yonka - Masque 103 Normal/Oily
3.5 oz.     $27.00    

Yonka Masque 103 Normal/Oily, for Normal/Oily skin. Masks so fragrant you won't want to take them off your face, but when you do, your skin will finally exhale! Hand crafted with China clay, saturated with an oxygen infused bouquet of essences of savory, sage, orange, wild thyme, lemon, lavender, cypress, geranium, rosemary, these masks will instantly clarify, tone and soothe while imparting a smooth, velvety texture to your skin.

Moisturizer products by Yonka

---

<!/td> Yonka - Creme 28 Dry Skin
1.7 oz.     $39.00    

Yonka Creme 28, this light and fine textured water based cream, with it's long lasting effect, slows down the loss of essential moisture and seals a veil of hydration and phyto-nutrients into the skin to maintain a youthful complexion.



 

---

<!/td> Yonka - Creme 83 Sensitive
1.7 oz.     $32.00    

Yonka Creme 83 Sensitive, restores a gentle and velvety complexion for over-reactive, highly unpredictable skin types, by soothing and calming redness in a weightless, fast absorbing formula. Created with an all plant and flower extracts melange of anti-irritant calendula, borneol and lime blossom plus moderate UV protection.