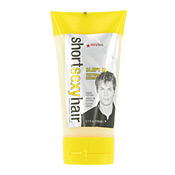 Short Sexy Hair is a sign of the times. It says Im confident. Im assured. Passion is my main stay. Its starting to rule the boardroom as well as the bedroom.


Gel
products by Short Sexy Hair
---

<!/td> Short Sexy Hair - Hard Up
5.1 oz     $16.50    

High-performance gel that won't flake. Get maximum hold and all-day shine. Holds all hair types. On wet hair you can achieve a sculpted, spiked, sleek or refined look. On dry hair it allows for a messy, tousled look.

Gel Foam
products by Short Sexy Hair
---

<!/td> Short Sexy Hair - 450 Blow Out
5.3 oz     $18.50 This blow dry spray protects hair from heat damage up to 450°F. In addition to outstanding thermal protection, this product conditions for smooth, sleek styles, detangles for improved manageability and strengthens hair. Helps to decrease blow dry time and adds weightless shine.


Currently Out of Stock
Styling products by Short Sexy Hair

---

<!/td> Short Sexy Hair - Control Maniac Wax
1.8 oz     $15.50    

Short Sexy Hair Control Maniac Wax takes control of your hair. Control Maniac allows you to control any style that you can dream of. Slick back, spikes, conservative, alternative, you name it; this wax will do. Use on dry hair.



 

---

<!/td> Short Sexy Hair - Frenzy Bulked Up Texture
1.8 oz     $19.75    

Frenzy - bonds to the hair to thicken the hair shaft -- creating fullness and separation at the same time. Frenzy delivers extra holding power to hold styles in place with a medium matte finish. Apply a small amount to dry hair and style. For more intense texture, throw your head upside down and work product vigorously through hair, creating random bits and pieces. Throw your head back over and place chunks where desired.



 

---

<!/td> Short Sexy Hair - Molding Paste
1.8 oz     $19.50    

Helps create sculptable texture with a semishine finish. Adds a little grit to your style while increasing brightness and luminosity. With its long lasting hold, this formula allows hair to be molded into any shape and style while leaving hair pliable enough to be reshaped as needed. Thickens, delivers more density to the hair, increases volume, body and definition.


 

---

<!/td> Short Sexy Hair - Shaping Creme
3.4oz     $19.00    

This crème conditions hair while helping to create soft-looking and durable medium holding styles. Leaves hair with a beautiful and rich finish and provides flexibility to reshape hair as often as needed. Protects hair from humidity while providing durable all-day hold. This product offers a flexible, medium hold in a conditioning crème formula with a soft finish. Shaping Crème is flake free and dries without a crunchy finish, washes out easily with no waxy buildup.


 

---

<!/td> Short Sexy Hair - Slept In Texturing Creme
5.1 oz     $17.50    

Short Sexy Hair Slept In Texturing Creme creates Ultimate texture. The trendy style of today is the textured, messy, slept in look; and for this, Slept In is the only product you need. Think of this product as giving you Slept In style. Use on damp or dry hair.



 

---

<!/td> Short Sexy Hair - Spray Clay
4.4 oz     $19.00    

A non-traditional clay in a spray form. With this new innovative aerosol application it allows for a fine and even product distribution to achieve an allover textured look with a matte finish. This product is great for all hair types needing added texture and movement with a dry, non-waxy hold.