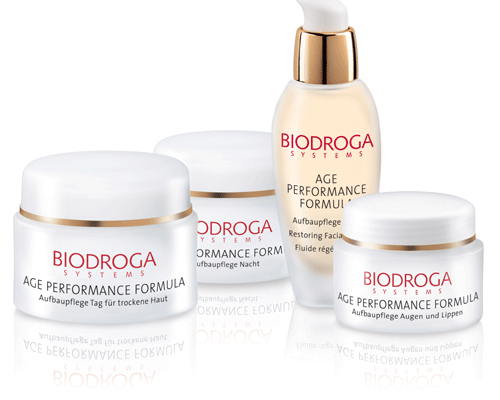 BIODROGA - the globally successful brand for the professional esthetician. Featuring high-quality products on a primarily biological basis, responding to specific skin needs. The focus is on seven different Biological Beauty Care Systems - each a complete skin care program in itself.

BIODROGA - everything from a single source. From development in our own laboratories, through manufacture and quality control, all the way to distribution. This guarantees maximum product quality, ongoing improvement and a steady stream of innovations.

Exfoliation
products by Biodroga
---

<!/td> Biodroga - Celluscrub Exfoliator
2.7 oz     $25.00    


BIODROGA CLEANSING Celluscrub Facial Exfoliator is a crème-gel formula which is optimally suited even for sensitive skin. The new cellulose peeling granules are eco-friendly since they are 100% biodegradable. They are made of renewable material as modified cellulose. The peeling granules loosen dead, horny skin flakes so that skin can "breathe" again. New and fresh skin cells can reach the epidermis so that skin gains a fresh, even and radiant look again. This peeling takes away the unpleasant dull look from skin. The peeling effect is supported by Indian bamboo extract which also helps to slough off skin flakes which are responsible for dull skin and to stimulate skin's micro-circulation. Cucumber extract supplies skin with moisture so that skin is pleasantly refreshed and the skin relief is refined. Plant squalane conditions and smoothens out skin protecting it against dryness. It is perfectly tolerated by skin since it is similar to squalane, a significant substance of skin lipids. Licorice root extract soothes irritated skin and has anti-inflammatory properties.

Toner
products by Biodroga
---

<!/td> Biodroga - Clarifying Lotion for Impure, oliy and combination skin
6.4 oz     $24.00    

This product was a favorite in the Puran Formula and it's now in the Cleansing Line too! Biodroga Cleansing Clarifying Lotion balances excess sebum production, has antibacterial benefits to defend skin against impurities, removes unwanted oily shine and absorbs extra sebum. Skin will be fresh and clear.